To access table seating go to Event > Live Event > Guests
(We recommend all attendees be ready and updated before starting your Table Seating.)

Click on View Table Seating. (If button is not there please contact support@biddingforgood.com)
 
Step One: Create your venue rooms.
Create Rooms - Enter the dimensions of the rooms of your event.  You can create more than one room.
Create Objects – Create the various objects/features of your venue: stage, dance floor, auction area, etc.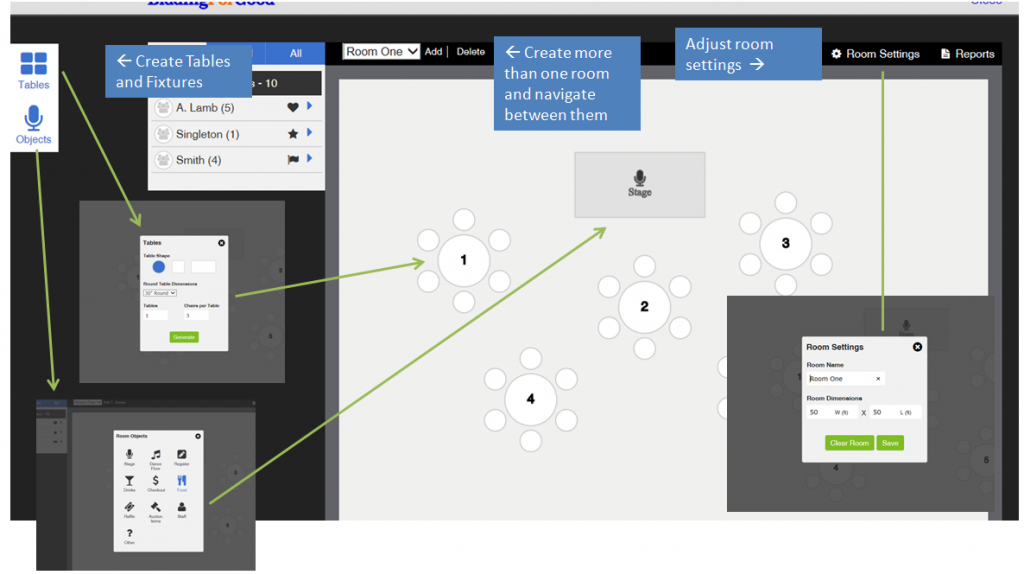 Step Two: Seat your guests.
Each Group will show in a menu on the upper left.
Drag and drop each Group to a table.  Once placed you can click on each seat to see that guest's information.  You can also drag the seats around to change their order at the table.

Symbols – these can be assigned on the Event Attendees page.  Edit the Attendee to assign them a symbol.
Heart: Table Sponsor/Hose
Star: VIP
Flag: Table Captain






 
Step Three: Download reports
Click on Reports in the upper right and select the report you would like to view. Please see the following article for more information on the Reports available: Table Seating Reports.